let's start window shoppin' here... & rush 2 Summit every fri, sat &
suNDaYyyyyy to get these items .....
Exactly the same! Nothings difference! even the quality! There are 2 booth selling crocs & both can offer u a very2 very very wallawehhhh price........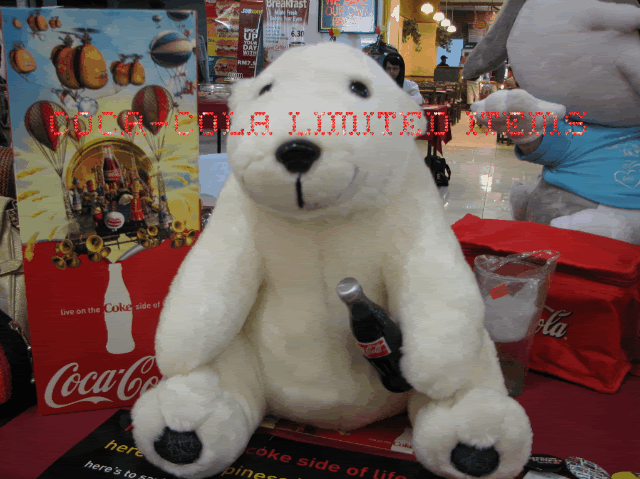 Collectors items... CoCa-Cola plush, posters rm15, bottle with special edition box, postcard rm5
,
glass rm7 only.
==Original Walt Disney Toys==
Nice 2 see, but not nice 2 hold... hehe.. SOLD already.. he bargained this 4 cute toys for only rm130 oooohhhhh.... cry cry cry...
wait for new batch of 'their' frens.


jom deco-decor for new year... discount ... murah murah!!!


Tis is my very fav part.... i used to accompany my fren before for eyebrow threading, so now i feel like wanna give a try too.. u can even do it 2 ur overall face... trust me.. ur face will be more silky after buang all the baby bulus....
hahah... no more laserforcancer.. they have henna tattoo too tu tu tu...
Another harga runtuh item... watches.. even its cheap but still waterproof type... & u can pierce here n there for only rm15 and free 1 pair earing too.

get 1 as xmas gift, newyear gift, or just to complete ur collection...
the animae toys r so so so cheap... range rm8-rm15 only...
buy 1 & put on ur ofc table... sure ramai yg nyebok2
Haaaaa... this jet oso.... so smart.. (the paint is black carbon-correct or not my description? huhu...) & d most important thing. look at d price.. look again..
it's rm49.90 and am sure u can bargain coz this is what flea market are for...
Ready for a date on xmas/new year? Ck miniature set is a perfect gift... aiyakk .. i forgot d price (below 100 is 4 sure)... and Chanel 2in1 mascara & eyeliner for only rm20.
Dunt worry... no pain at all... its just a temp tattoo.. can last for 5 days... price start from rm10. cool...

If this guy still keep selling this creamy yummy cheese tart till next year, sure all the tenants will gain their weight... we always be d 1st 2 grab the tart & quiche once he took it out frm the oven.... tak tahan wooo d aroma....
u must come & try......


Ni yg paling best nih... can u see the rm10 notes? u know what? u can request ur lucky number (ur car, bday, anniversary, any number la)... then uncle will find for u.. the request number will be the last 4 digits at the notes... u can get a set of rm1,rm5 & rm10 with the last 4digits is ur lucky number!! the price for the set start from rm80 if am not mistaken) and will go up & up according to the difficulty /age of the number requested. best tak? bleh buat hantaran unik nih..
.


ask them 4 a free demo.. what demo? demo on how 2 look 10 years younger... hahah... it's a magic soap!!


bye... tata... titi... tutu...